Layne Gray
Biography
I enjoy writing. What I enjoy even more- is people enjoying my writing. I have been accused of having a little Poe in me. I enjoyed reading him so I probably do.

Your very young and your on the playground, and two kids get in a fight. The teacher says "use your words boys; use your words." This is me using my words. I usually write with a little humor, and I put a little part of myself in my work.
Books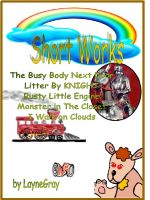 Short Works
by

Layne Gray
Four of my favorite short stories and a poem. "The Busy Body Next Door" What would you do if every time you did anything on your property (minding your own business) your neighbor informed everyone in town about your doings? This time she was burning up the phone lines yelling, "He's digging a grave!" Poe influenced this tale of the nosy neighbor.
Layne Gray's tag cloud