Leah Chaffins
Biography
Leah Chaffins is a short story writer, a novelist, and a poet. Her primary writings are horror fiction, memoir, and poetry. Her work can be found in many publications, including the anthologies Ain't Gonna Be Treated This Way: Poems of Protest & Resistance, and Behind the Yellow Wallpaper, Dragon Poet Review, OkieMag, Red Earth Review, and The Gold Mine. At this time, Leah has two works out for publication, Gravel Goats, a poetry chapbook, and Birthmarks which is a thematic chapbook about women and the burden of reproduction. Currently, Leah is an Instructor of Composition at Cameron University. In her free time, Leah volunteers with organizations that are using creative writing to positively impact the world we share. Her current volunteer work consists of being a submission judge for Ageless Authors and helping to create a cancer survivor's art book that will be used to raise funds for the Duncan Cancer Society.
Where to buy in print
Books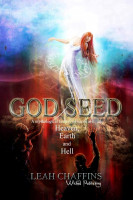 God Seed
by

Leah Chaffins
In the beginning, Adonai and Sophia created all that is. When Sophia falls in love with Lilith, Adonai's jealousy, and Sophia's ensuing rage, creates a curse that lasts centuries. When a rogue band of angels attempt to make an army of Nephilim children, the curse comes to a head. Cassandra, Dark Lovely and the child of prophecy, threatens the established balance of power.
Leah Chaffins' tag cloud