LaToya Easter
Biography
LaToya Easter is a native of Greenville, TX. She earned her bachelor's degree in Literary Studies at the University of Houston. As an undergrad at U of H, LaToya wrote her first novel Can't Cry: A Girl Desperation Production, an adult fiction novel which was published in 2012. Upon graduating from college, LaToya became an English teacher and coach in Houston, TX, and now serves as an administrator in Austin, TX. She continued her education by earning her doctorates from Grand Canyon University in 2016. Over the years, LaToya has written articles for the Houston Inner Looper and written as a ghostwriter for various writers. LaToya enjoys telling stories about real life observations or experiences. She is also passionate about dialoging about living a positive life. Besides writing, she enjoys reading, working out, and traveling.
Where to find LaToya Easter online
Books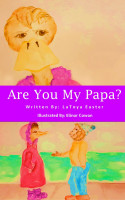 Are You My Papa?
by

LaToya Easter
Are You My Papa? is a story about young Katolina, a duck, that struggles with not having a father in her life. The story is told through animals, and characterize the internal struggle with identity and emotional void that many youth feel who do not have one parent or both. Are You My Papa? reminds readers that some challenges we face in life we cannot fix, but they do not define who we are.
LaToya Easter's tag cloud