Lee C. Batterman
Biography
Lee Batterman was born in Brooklyn, NY in 1926. Early in life at the mere age of 5 years old, Lee's love of the arts began to grow. With a fledgling passion for music beginning, an eagerness to learn to play the piano came too. Yet, it was at the age of 20 that her dream of making music would finally be realized. Then, what began with a love for music would continue to blossom over the years to include a plethora of art forms.
Following the birth of her first child at the age of 22, another outlet for creativity was born; Lee began to paint.
As she happily welcomed 2 more children, her development as an artist persisted. Over the next 5 decades, Lee's artwork would exhibit and sell throughout the United States and Canada.
Already an accomplished artist, it was not until the age of nearly 70 that a new inspiration would come upon her and a journey as an author would begin. Lee has since published three full-length novels: 'Two Cents and a Milk Bottle', 'Upside-Down and Backward', and proudly introducing, 'Kiblych'.
Lee now lives in Florida with her dog Ribbons, visited often by her children, where she continues to paint and write.
Books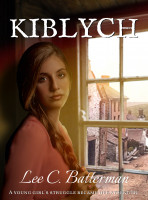 Kiblych
by

Lee C. Batterman
Price:
$5.99 USD.
Words: 151,540.
Language: English.
Published: March 30, 2018
. Categories:
Fiction
»
Coming of age
Kiblych is a novel of historical fiction taking place in 1883, Russia. It's an ethnic story about a blossoming town entrenched with tradition and surreptitious corruption centering around the life of fourteen-year-old, Etya Sirotansky. This earthy and passionate tale full of young love, trials, tribulations and triumphs will give you a glimpse into the past through the window of Etya's world.
Lee C. Batterman's tag cloud