Lee Bishop
Biography
Following college at The University of Missouri and a stint in the U. A. Army, Lee began a 15-year newspaper career at The Phoenix Gazette in Phoenix, Arizona. He wrote more than two thousand news articles and feature stories for The Gazette.

His main work emphasis was government and politics, and most of his career was spent writing about the Arizona State Capitol, the Arizona House of Representatives and the State Senate. Lee also covered the Phoenix City Council and Maricopa County governmental issues. He wrote numerous stories about prominent Arizona politicians including U. S. Senator Barry Goldwater, Speaker of the U. S. House of Representatives John Rhodes, and U. S. Senator Paul Fannin.

Lee had three novels published during and after his newspaper career, including Gunblaze by Leisure Books; the first book in the Border Legend series by Walker and Company, and Davy Crockett for Dell's American Explorers series.

He left the newspaper business to pursue a career in real estate and still owns a real estate company, Southwestern Homes Realty, in Scottsdale, Arizona.

Lee and his wife, Sue, have two sons and two daughters, who all live in the Phoenix and Tucson areas with their families. They have eight grand-children.

He is an avid outdoorsman who walks his boxers two to three miles each morning. Lee's favorite passion is hiking the Grand Canyon at least once a year. He also plays golf regularly.

Lee has returned to writing novels on a full-time basis and concentrates on southwestern historical fiction with action and adventure being the dominant focus.

He and his wife continue to reside in Scottsdale, Arizona.
Books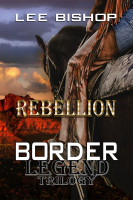 Rebellion
by

Lee Bishop
Rebellion is sweeping northern Mexico as peons attempt to gain freedom from wealthy land owners who treat workers and farmers like indentured servants or slaves. Periodically peons and vaqueros will visit Ricardo Montoya in the Arizona Territory, pleading with him to join the rebellion and lead the rebels who are continually being mauled by the Mexican Army.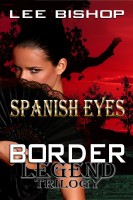 Spanish Eyes
by

Lee Bishop
The saga of James Barringer/Ricardo Montoya continues as one man with two names carries on his battles with Apaches and outlaws on both sides of the international border between Mexico and the Arizona Territory.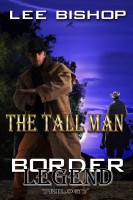 The Tall Man
by

Lee Bishop
Ricardo Montoya had never disobeyed Don Diego Salazar's orders until he was told to execute Apache women and children. Montoya had risen to the position of second in command and was instrumental in the building of Don Diego's huge cattle empire.
Lee Bishop's tag cloud