Lee Child
Biography
LEE CHILD is the author of 23 Jack Reacher novels, which have sold more than 100 million copies and been translated into 47 languages. Two of the Reacher series, One Shot and Never Go Back, were adapted into blockbuster films. Prior to his writing career, he worked at Granada Television. Fired in 1995 at the age of 40 as a result of corporate restructuring, he saw an opportunity where others might have seen a crisis. Always a voracious reader, he bought six dollars' worth of paper and pencils and sat down to write a book. That book was Killing
Floor, the first in the Jack Reacher series. The Midnight Line, the 23rd Jack Reacher novel, came out in November 2017.
Books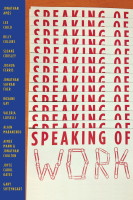 Speaking of Work: A Story of Love, Suspense and Paperclips
by

Bernard Schwartz

(editor),

Jonathan Ames

,

Lee Child

,

Billy Collins

,

Jonathan Coulton

,

Sloane Crosley

,

Joshua Ferris

,

Jonathan Safran Foer

,

Roxane Gay

,

Valeria Luiselli

,

Alain Mabanckou

,

Aimee Mann

,

Joyce Carol Oates

, &

Gary Shteyngart
In Speaking of Work, part of Project: SET THE PAGE FREE, thirteen writers and creative minds come together to tell the ultimate story of the modern workplace. These authors, poets, and singer-songwriters give us a guided tour of the places that inspire them. There's mystery here. Dark confessions. Tales of deals made, careers built and broken, and the love and dread and hope of being at work.
Lee Child's tag cloud