Lee DeHaven
Publisher info
Originally from Carson City and Yerington, Nevada, Lee DeHaven served in the USN between 1977 and 1980. In 1985, he embarked on a self-learning journey to research and write military aviation history focused on the F-4 Phantom II jet. Along the way he obtained multiple Associate degrees. After years of writing articles he moved up to his first book (in partnership with Rich Rentrop) published on DVD in 2007. Lessons learned, ever expanding networking with fellow historians, and the expansion of the interest has led to a multi-volume history of USMC F-4 squadron histories. If you would like more information about VMFA-314, or any other squadron, feel free to send an e-mail to Lee.
Books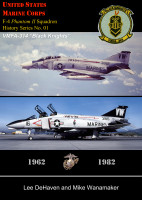 USMC F-4 Phantom II Squadron History Series, No. 01, VMFA-314 "Black Knights," 1962 – 1982
by

Lee DeHaven

&

Mike Wanamaker
This work covers the history of Marine Fighter/Attack Squadron 314, VMFA-314, while equipped with the F-4B model of the F-4 Phantom II between the years 1962 and 1982. Marines who served with the "Black Knights" share their experiences of what life was like with VMFA-314 during the F-4 Phantom II era.
Lee DeHaven's tag cloud