Lee Hazelle
Biography
20 years in radio, from which I got the material for "Soooo Stupid". 20 years driving a dump truck, from which, believe it or not, I got the material for "Becoming Human in the Cosmos". Thank God for recorded books!

I've always been a "big picture" kind of guy; a lover of the panorama that shows the whole thing. That's what motivated "Becoming Human in the Cosmos". I wanted to put into a sensible picture my understanding of the "whole"; God, us, the Cosmos, what's going on, where we fit it. A perfect picture? Not by any means. A pleasant conversation with a somewhat flaky friend? Yes, I hope it's that. That was my goal, anyway. Enjoy!
Books
Sooo Stupid, Or, No One's Humiliation Is So Great, That We Can't Add to Their Pain with A Snarky Comment
by

Lee Hazelle
In classic punchline first, body of story following format, this book exposes the stupidities we all would commit if only we'd thought of them first. It's a good read on an airplane flight. It's full of the human potato chip factor that challenges, "Bet you can't eat just one."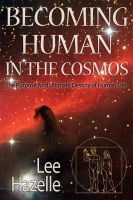 Becoming Human in the Cosmos: The Purpose and Ultimate Destiny of Human Life
by

Lee Hazelle
Using scripture, apocrypha, theoretical physics, biology, philosophy,near-death and new age literature, this book combines everything into a whole view of the meaning of life. And it's fun! How many earth-type planets are in the universe? Is there sex in Heaven? Do people have to go to the bathroom in heaven? Why are you here? What's your future? Find out!
Lee Hazelle's tag cloud