Leigh Dean
Biography
My lifelong love affair with words began with the small, beautifully illustrated books of Beatrix Potter. The series of her books beloved by generations of children, were an anomaly. Ms. Potter's vocabulary choices—often written about and commented on as not being child-friendly—was thrilling to my three-year-old ears, even if the meaning of certain words escaped me.

Imagine the unhappy transition I found myself in when the words and charming stories in Beatrix Potter's books were replaced by the incredibly boring words and unimaginative plots educators produced when they created the Dick and Jane basal readers. In my father's boyhood, children learned to read from the William Holmes McGuffey primers. But by the 1940s-and-50s Dick and Jane were the only textbooks used in public and private schools to teach 1st graders how to read.

Because I was dyslexic—Dyslexia being an undiagnosed impairment back in the 40s—learning to read seemed impossible. Dick and Jane did not help.

My saving grace? I had parents, born in the late 1800s, who were book-people and enjoyed reading aloud to each another. Of course, I loved to be read-to, too. My father was a superb out-loud reader and, listening to him read, I developed an ear for the music that words in well-written sentences made. Sentences in books by Dickens, Arthur Conan Doyle and A. A. Milne sang in my ears and their complicated plots captivated my attention.

Learning to read with Dick and Jane was an utter failure. I never did learn to read in a conventional way. I was 12 when I chanced upon a spaciously designed copy of Jack London's Call of the Wild and began, spontaneously, to read it. At last the vivid word-paintings on the page translated into picture-images in my head and I experienced, for the first time, the overwhelming joy of being able to read.

This sudden ability to read was Holy Wisdom's doing, no doubt. How else to explain that from such an inauspicious beginning, I went on to become a Fiction Editor in the Junior Book Department at McGraw-Hill? There, I eagerly embraced the New York Board of Education's enthusiastic movement to introduce trade books—such as Arnold Lobel's Toad and Frog series—as an alternative means of teaching children how to read. This led, eventually, to public schools across the country abandoning the Dick and Jane and, later, Juan and Juanita readers.

July of 2016 I turned 80. I live a heaven-blessed life in Seattle, Washington.
Books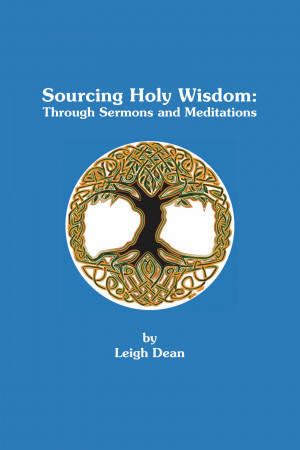 Sourcing Holy Wisdom: Through Sermons and Meditations
by

Leigh Dean
The knowledge each of us is given as beings born-with-a-soul into physical matter is at best limited. The sacred wisdom that comes from our ability to connect with the Source of all Creation is limitless. This book uses anecdotes from my often-rambunctious life to show how to access the divine through meditation and through the practice of ordinary tasks. May this book bring you comfort.
Leigh Dean's tag cloud