Leitha Martin
Biography
Born in Australia I have lived in Italy since 1981. A mother of two, I ran Leitha's English Playgroup in Milan for 15 years. The 1980s saw the publication of a fantasy story for children, The Bluemoon Fantastics, Rigby 1982 (Australia) and a text for teaching English through play L'Inglese con Te, Emme 1988 (Italy). Since 2000 I have had the opportunity to write again and have been happily working on historical and pre-historical fiction for anyone over 10, as well as lighthearted tales for young children - to be published soon...
Books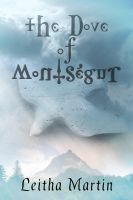 The Dove of Montségur
by

Leitha Martin
(5.00)
It is 1240 and a community of Cathars, persecuted for their beliefs, has withdrawn to the mountaintop fortress of Montségur, in southern France. This is the true story of their circumstances, their fate and their redemption, thanks to a young girl's bravery.
Leitha Martin's tag cloud