Luis Renteria, Sr
Biography
BIOGRAPHY

Luis Elin Rentería Cañola

I was born in Pie de Pató, Chocó Columbia on August 30, 1959 in the heart of the pacific wild.
After realizing my true passion for studies in the faculty of economy at the Autonomous Latin American University in Medellin, Colombia; I graduated with my degree as an Economist. I also have a diploma in Business Administration at the Lethbridge College in the province of Alberta, Canada.

I was Municipal Treasurer for a little over nine years in the local area of Mutatá, Antioquia, and Columbia, where later in the year of 1995 I was elected Mayor by popular election. As a Defender of Human Rights and committed by popular causes as mayor, I declared a neutral zone of distension in order to protect the life of farmers displaced by the fights between Farc, Paramilitaries and Military army forces where I received more than 5,000 deprived civilian running by violence in Colombia.

Currently residing in Canada, where I have asked for political refugee.
Books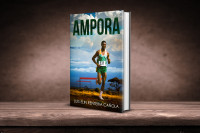 Ampora
by

Luis Renteria, Sr
Price:
$12.00 USD.
Words: 66,280.
Language: Latin.
Published: September 2, 2018
. Categories:
Fiction
»
Biographical
Las experiencias expresadas en este escrito hacen parte de la realidad que aún vivimos las minorías colombianas, los afrodescendientes, continuamos siendo vituperados y nuestras regiones, marginadas por el estado.
Luis Renteria, Sr's tag cloud