Lilian Ham-Ola
Biography
Rev Lilian Ham-Ola is the wife of Rev Ham Ola. She is a preacher of the Gospel with a strong, tangible preaching anointing, demonstration of the Spirit and power. She is primarily an evangelist, a prophet, a pastor and a Psalmist. She is the Vice-President / DCO of the Ham Ola Ministry International. The Vice Chairman Board Of Trustee of The Ham Ola Ministries International. She is the Deputy Overseer of Christosharvest int'l Churches with the vision to raise a congregation of God's servant-sons and the purpose to reap the harvest, establishing the people in prosperity (uncommon success) and divine health. She has since been a faithful and dedicated help meet to her husband. They are blessed with children.
Books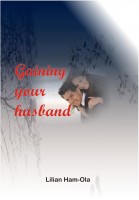 Gaining Your Husband
by

Lilian Ham-Ola
In this book, you will discover it is very natural that you don't make profit on what you did not invest in, or labour on. Profitability answers to labour. There is no profit without labour and there is no gain without pain. You must therefore, develop a sense of responsibility towards your husband.
Lilian Ham-Ola's tag cloud