Lima Bergmann
Biography
When Lima Bergmann's fourteen year old daughter, Lyndsy, asked her if she could take a modeling class for the summer, Lima had no problem saying yes. One thing led to another and eighteen months later, Lyndsy was offered a three-year contract on the CBS soap opera, The Young and the Restless. Lima and her husband were surprised to be in the position of having to decide whether to quit their jobs, sell their house and relocate to Los Angeles or spend a lifetime wondering how things might have turned out for their daughter.

What followed were fifteen years of home schooling, auditions, acting, dance and singing lessons, meetings with agents and managers, and many hours of sitting on sets for both of her daughters. Between both Lyndsy and her younger sister, Hannah, they have worked over a hundred jobs in commercials, theater, film and television.

As a clinical psychologist, Dr. Bergmann spent the first half of her career treating children and families in foster care, juvenile hall, and as the Clinical Director at a mental health clinic in the San Francisco Bay Area. After moving to Los Angeles she transitioned to a private practice specializing in counseling entertainment industry clients. In addition to her therapy practice, Lima offers private consultations for families who are navigating the entertainment industry with their child actors.

As a speaker, Dr. Bergmann addresses audiences on the issues facing families in the entertainment industry, including the differences between supporting and sabotaging their child's career.
Books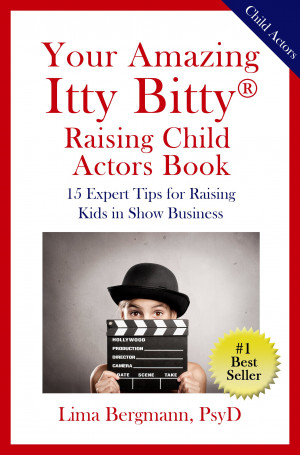 Your Amazing Itty Bitty® RaisingYour Child Actor Book
by

Lima Bergmann
"Lima has written a wonderful and easy to follow book of tips for parents of aspiring young actors. I wish this invaluable information had been available to me when my daughter began auditioning." – Laura Klein, mother of Alisan Porter (former child actress and winner of Season 10 of The Voice).
Lima Bergmann's tag cloud