Lindy Messerly
Biography
Lindy Messerly is an avid reader, a hiker, a nature, children, and dog-lover, and a fifteen year hospice nurse who has enjoyed several permutations of her career in adult life. Most recently she enjoys the roles of Grandma Lindy to eight grandchildren, and Volunteer Coordinator and Reference Librarian for Prescott Valley Public Library in Prescott Valley, Arizona.
The Mennonite Church became pivotal in Lindy's spiritual life during the Viet Nam war. Mennonite Central Committee is the service branch of the Mennonite Church, where her daughter, Paisley, spent a year missionary teaching in Zambia for this organization and met her future husband, Humphrey. MCC continues to provide education and support for people with AIDS and AIDS orphans in Zambia and other African countries.
All proceeds from this book will go to MCC Zambia AIDS mission work. We thank you for your contribution. Please see mcc.org for more information.
Books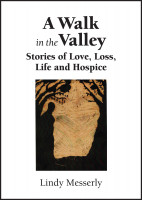 A Walk In the Valley: Stories of Love, Loss, Life and Hospice
by

Lindy Messerly
Fifteen years providing hospice care creates a wealth of material to share about death, dying and some unique experiences this nurse encountered along the way. You may laugh and cry, and you will certainly learn many things about something we must all deal with one day. What can you do to be prepared? How can we help ourselves and others? What sustains a hospice worker?
Lindy Messerly's tag cloud