Liz Bull
Biography
Liz Bull helps women who are fed up with weight loss programs that don't work to finally get a body and a life they love. A veteran and "survivor" of restrictive diets, she cracked the code and is now dedicated to helping women everywhere discover the hidden reasons for their weight, heal emotional eating, reach their healthy weight, and to look and feel fabulous and feminine. In this book, she busts up the myths, misconceptions and misinformation about obesity...disconnecting "fault" from fat.

Her holistic signature private coaching program (Diet-FREE Weight Loss™), on-line program and articles teach women a natural, sustainable and joyous approach to weight loss. She works with clients to identify and clear the root causes for the weight... so they end the battle with their body, lose weight and never diet again.

A Certified Virtual Gastric Band Practitioner, Liz has long been fascinated by the important role hidden beliefs play in our lives, especially with weight. She is also a Medical Intuitive and Master Theta Healer. Her other studies and certifications include EFT (Tapping), Psych-K, Matrix Energetics, Access Consciousness, Qi Gong, NLP, Biofield Healing and Transcendental Meditation.

She is a regular contributor to Eydis magazine and a member of the Obesity Action Coalition.
Books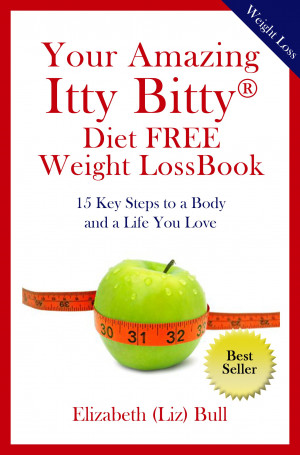 Your Amazing Itty Bitty® Diet FREE Weight Loss Book
by

Liz Bull
What her clients say: "I lost the weight without diet or willpower and my chronic migraines stopped." "Liz's holistic method delivers... more than I could have ever imagined...spiritual, physical and emotional. I am so grateful!" "My life is so different now. Some would call it a miracle...but I call it The Liz Effect." Isn't it time you went Diet FREE? Pick up a copy of this exciting book today
Liz Bull's tag cloud