Liz Kingswood
Biography
Liz Kingswood possesses an eclectic mix of talents. She has been a corporate vice president, a university professor, a tea sommelier, a design guru, and is currently working on her PhD in mythology and depth psychology. Her more than twenty years in the graphics industry culminated in speaking engagements across the country and led to writing credits for industry articles, video scripts, user guides, online training and the Adobe InDesign Classroom in a Book. Her fiction writing has won literary awards, including the Zola award for the short story on which this book is based. Liz is married to a Canadian punk rock musician and alternates her time between Vancouver, BC, Seattle and Santa Barbara. You can find Liz online at www.lizkingswood.com.
Where to buy in print
Books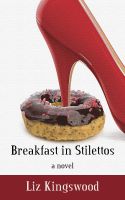 Breakfast in Stilettos
by

Liz Kingswood
As Lifestyles Editor for The Seattle Sun Times, thirty-three year old Emily Royce covers stories about the strange and unusual. When her boss assigns her to write about Seattle's "slutterati"—a community that celebrates sensuality in literature and the arts—she finds herself researching websites with couples engaged in every Latin conjugation she knows.
Liz Kingswood's tag cloud