Lakeisha Jones
Biography
I began pursuing my career in entertainment directly out of high school attending York Technical College. There I received a diploma in Teleproduction and an Associate in Technology. My interest started in the filming aspect of movie production, and later began studying script writing. Currently, I attend Full Sail University pursing my Bachelors in Creative Writing for Entertainment. I have written dramas, comedies, fantasies, and science fiction stories. The dramas I write tend to relate more to my audience; therefore, this is my favorite genre. I take pride in writing outside of the box, which contributes to my versatile writing style. I reside in South Carolina constantly writing and building my portfolio.
Books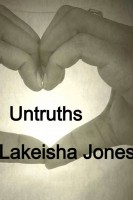 Untruths
by

Lakeisha Jones
(3.00 from 3 reviews)
Angela Chase, seventeen-year-old high school student struggling to uncover a family secret. With the help of her boyfriend, Brandon Sturgis, she grows a voice that she never knew she had. Angela was fed constant lies by the only person she had as family, her father. After years of being kept from her mother, they finally reunite and uncover the truth that has kept them apart for so long.
Lakeisha Jones' tag cloud