Vin Mabry
Biography
Vin Mabry is the pseudonym I use for writing Erotica. While my stories are a work of fiction, as the typical disclaimer declares, all stories have a foundation in some truth or variation of life experience. I hope you'll join me on my initial passage into the realm of Erotica. The story is a fictional truth of a journey after a breakup with someone you thought to be your soul mate.
You've had your own journeys which probably parallel or surpass the experiences I relate here, if even just fantasy. If you have a little spending money, a sense of humor and are reasonably decent looking in real life, then this journey is one you might have already made.
Oh, it helps if you dance, are open to new experiences, have a high sex drive and absolutely love women just for being women. They know when you do.
I hope you enjoy, Volume I of The Year and Month After. The rest of the journey will follow.
Books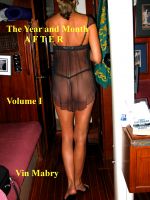 The Year and Month After
by

Vin Mabry
Volume I - An erotic journey. Josh was doomed, just like every other man since Adam took that first bite of forbidden fruit and found paradise. Eve's call is powerful, an innate part of men stronger than all other needs in the moment. One more touch, one more bite, just one more taste of that mesmerizing flowery petaled apple.
Vin Mabry's tag cloud