Lola Rykker
Biography
Lola Rykker spent the majority of her childhood with her face hidden between the pages of many different books. She was, and is still, an avid reader... a bookworm. In her early teen years, Lola discovered her mother's hidden stash of romance novels. She was swept away by the exciting, romantic lives of those fictional lovers. As she blossomed from a nerdy wallflower into a beautiful, enchanting woman, she began to make those stories come alive through her own real-life adventures. Lola brings the excitement of her life into her writings. She uses her life experiences to create novels full of passion, emotion and intrigue. Let her bring you into her world and along for the ride of a lifetime!
Where to find Lola Rykker online
Books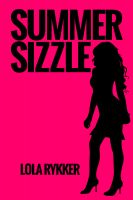 Summer Sizzle
by

Lola Rykker
Twenty-one year old Becca is a small town girl with dreams of finding herself and sowing her wild oats. She and her best friend Charlie head to the city to have a little fun. When she hooks up with the sexy, mysterious Roan on the dance floor she is both excited and scared. She is a virgin, but hopefully not for long. Will this night turn into the fantasy she has always imagined? Is she ready?
Lola Rykker's tag cloud