London Renee
Biography
Business women for more than 25 years. My focus in life are Spirituality, family, health and teaching others. I love teaching, speaking, and motivating others. Being happy, joyful, thankful, grateful and appreciative for all I have is a blessing. Aging gracefully and Children are a priority, teaching them to be the best person and living the best life is one of my main goals in life. A positive mind set is what I live by and being with my family, my kids and my grand children are all huge blessings to me. I believe: In whatever you do, whatever you say and whomever you do it with, do it with love and care. Love Love Love Always. Thank you, Thank you, Thank you. And So It Is, And It Is So.
Where to find London Renee online
Books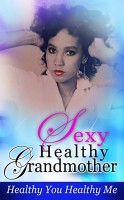 Sexy Healthy Grandmother, Healthy You Healthy Me
by

London Renee
"Start now, while you are young" You are going to age, so why not age gracefully? Another quote Venus likes to share is,"Our health always seems much more valuable after we lose it"—unknown source. Don't let this happen to you. Protect your health and care about your body, that great gift from the Creator. We are getting older and living longer, so why not be healthy, sexy and beautiful doing it.
London Renee's tag cloud