Jack Duvall
Biography
Albert Einstein famously remarked that he studied relativity because it was easier than trying to understand women.

Jack Duvall is made of sterner stuff. And he enjoys women more than physics.

Like many of us, Jack also enjoys reading high quality stories that arouse and excite, and so he's decided to write about his experiences. He hopes that you'll enjoy them as much as he did!
Books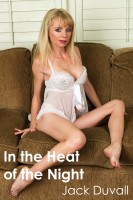 In the Heat of the Night
by

Jack Duvall
It's a hot summer night and Jack's somewhere he shouldn't be…
Jack Duvall's tag cloud