Lorna Mattern
Biography
Lorna Mattern worked for the State of Maryland for thirty years, experiencing a gritty side of life most people only read about. It was dirt floors, pig heads on dinner plates, children hidden in attics, panties on heads, destruction of refrigerators that call you a 'sonovabitch', all manner of brutal and poignant human acts. More than once, she had to fend off the amorous advances of maximum security prisoners, the attacks of desperate people wielding knives, shotguns, and handlebars. Later, when she worked in administration, her skills were put to use writing government documents. No adrenaline there, except for times when she stood in front of TV cameras to answer questions about sensational events. She escaped it all on weekends writing fiction for magazines and anthologies. It was then, after a trip to Mexico, ¬Mountain of the Seven Caves was created.
Now retired, Lorna writes music and fiction from her homes in Orlando and Key West. She finds that getting to Key West is half the fun, riding the Overseas Highway, and 'seeing it raw' from the seat of her motorcycle, "The Kid".
Books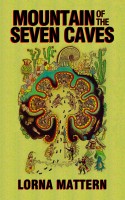 Mountain of the Seven Caves
by

Lorna Mattern
Young Douglas Gorman witnesses his father's murder on top of an Aztec ruin. He grows up to become an adventurer and importer of ancient artifacts. Tortured by his father's death, he returns to the Mexican jungle where it all happened. Inspired by a hieroglyph, he sets out on a quest filled with danger, love, and the inconceivable mystery of The Mountain of the Seven Caves.
Lorna Mattern's tag cloud