Lotta Rott
Biography
Born in England Brian Allen left school at the start of WW2 working in various jobs useful to the war effort until he was old enough to join the RAF as a Wireless Operator/Air Gunner in Bomber Command. The Author ran his own market garden before moving to New Zealand in 1952, where he did farm work, was an accountant and a Probation Officer. Now retired he lives in the country where he writes, gardens and enjoys life.
Books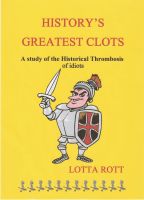 History's Greatest Clots
by

Lotta Rott
A veritable Aladdin's cave of new information that rewrites much of accepted history with far-reaching implications for many of the oldest and most respected cultures. Though ridiculous and far-fetched in the extreme, many of the more idiotic interpretations raise the disturbing possibility of having some basis in fact.
Lotta Rott's tag cloud