Tiffanie Y. Lewis
Biography
In the last 10 years, Tiffanie has counseled and inspired hundreds of teens and young adults to live their best relationships in a beautiful spiritual triangle with God. She has also inspired women to pursue the dreams and explore their gifts and talents. With God always on Tiffanie's shoulder, she is a sought-after inspirational keynote speaker and workshop facilitator. Close to her heart is helping teens and young adults to unlock their hidden potential through self-love, self-discovery and practical application of biblical principles!
Where to find Tiffanie Y. Lewis online
Books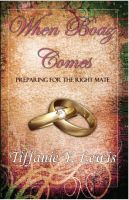 When Boaz Comes
By
Tiffanie Y. Lewis
Price:
$4.99 USD.
Words: 31,560. Language: English. Published: April 12, 2013. Category: Nonfiction
When Boaz Comes explores the story of Ruth and Boaz and provides some ideas on what you should do while you prepare for your mate.
Tiffanie Y. Lewis's tag cloud