Samuel McCall
Biography
Sam was born in Houston County, Alabama and grew up on a small farm just outside of Cottonwood where he went to school at Cottonwood High School. Eight of Sam's twenty-two cousins lived within what we would call a stone's throw from each other (a few miles). After High School, he joined the Air National Guard and served while attending Auburn University. Sam eventually earned an MBA in accounting. Sam has five children named Stephen, Caitlin, Matthew, Jacob, and Connor. Currently he resides with his wife, Ashley, in the Tampa area of Florida where he is the editor of Florida News Flash and where he co-hosts a radio talk show everyday.
Where to find Samuel McCall online
Books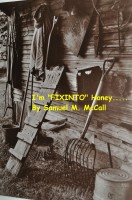 I'm "FIXINTO" Honey.....
by

Samuel McCall
Growing up in the South, the deep South, provides a child with a unique perspective of the world in which we live. Words are an art form. Our view of the world is shaped by the words we use to describe it. Sometimes its an inflection that changes the meaning of what is being said. Take for instance the meaning of "FIXINTO". Well.... just open up the first page and you can learn all about "FIXINTO"
Samuel McCall's tag cloud