Stephen Atkins
Biography
Stephen recently celebrated fifty years in music and broadcasting. He began writing as early as grade school, publishing a neighborhood newsletter on the family typewriter. He's grateful to have learned this skill at such an early age. Public speaking came easily and speech contests were won using the obligatory three by five inch note cards; his were blank. It seems the rush of improve made it more fun. Over the years, he has composed musical drama, a few advertising jingles, written and produced fifty episodes of The Celebration Series for radio syndication, and co-produced "The First Ten Years"; a radio special for CCM magazine. In more recent years, projects have included recording music groups and producing radio programs for others from his home studio. Stephen is the creator of Full Sail Radio on the web, and he looks forward to releasing the audio version of this book to include brief sound clips of some of these stories.
Books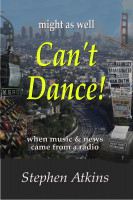 Might As Well Can't Dance!
by

Stephen Atkins
Price:
$3.99 USD.
Words: 31,600.
Language: English.
Published: April 9, 2018
. Categories:
Essay
»
Author profile
Pick a profession, and chances are good there are some interesting stories to tell. Imagine what an astronaut has seen, or a first responder faces everyday. I never expected to pilot a helicopter over an L.A. freeway, drive a dog sled team, or work along side my childhood idols. I certainly never expected to be surrounded by 16 tigers! Join me to meet some unforgettable characters.
Stephen Atkins' tag cloud