Luis Aponte
Biography
Luis Aponte is a filmmaker, screenwriter, and United States Air Force veteran who worked at nuclear technology facilities, taught English in a small coal mining town in China, and served as the Historian for both Golden Key International Honors Society at Florida Atlantic University and Phi Theta Kappa International Honors Society at Broward College. Currently, Luis maintains a social networking website that encourages the online community to share ideas of how we can reduce our dependence on petroleum, called www.DeathofaGasGuzzler.com.
Where to find Luis Aponte online
Videos
Death of a Gas Guzzler short documentary film
Now that I am finished with submitting my film to film festivals, I thought I'd share my short documentary movie with all of you! Enjoy and share! Special thanks to Kathy McKenzie-Runk, award-winning author of The Mackenzie Scott Mystery Series, for sponsoring my short film! Thank you for believing in me and my project! You are an angel! :)
Books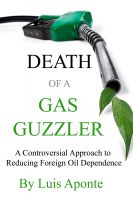 Death of a Gas Guzzler: A Controversial Approach to Reducing Foreign Oil Dependence
By
Luis Aponte
Price:
$3.99 USD.
Words: 42,530. Language: English. Published: November 27, 2011. Category: Nonfiction
Obsessed by how rising gas prices and dependence on petroleum impact the economy, national security, and our overall quality of life; Air Force veteran, Luis D. Aponte shares a letter he sent to the President of the United States, expressing these fears. "Death of a Gas Guzzler" reveals surprising automobile innovations that could help reduce and eliminate the nation's dependence on foreign oil.
Luis Aponte's tag cloud