S.J. Bell
Biography
S.J. Bell has a lifelong love of stories, in all their myriad forms. In junior high, he used to stay up until 10 P.M. reading cheesey science-fiction novels. In high school, he was a Squaresoft fan and Babylon 5 junkie. In college, he studied English Literature and argued on the internet about the relative quality of anime dubs. Today, he lives on Long Island and writes for a living. He spends his spare time reading and blogging about werewolves, watching movies with his girlfriend, and playing board games. He plays a poor game of Agricola, but a very good game of Innovation. His first novel, Bonds of Fenris, is due out in May of 2012.
Where to find S.J. Bell online
Books
The Case of the Dark Angel
by

S.J. Bell
A two-hundred year-old vampire detective and his human assistant investigate a report of a rogue turning. But there is more -- and less -- to this case than meets the eye. A short story from the author of Bonds of Fenris, offered for free to Smashwords members.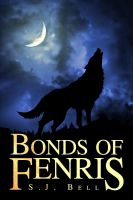 Bonds of Fenris
by

S.J. Bell
(3.88)
Unable to cope with life as a werewolf, Talia Thornwood turns to the mysterious newcomer Corwin to learn how to control her lycanthropy. Corwin's teachings force her to confront her own illusions about herself and accept what she has become. And, more amazingly, what she has never stopped being.
S.J. Bell's tag cloud