Lydia Stevens
Biography
I'm a paranormal author that dishes it out with a side of humor and a little bit of sass! On a more serious note, I'm also a student of the Southern New Hampshire University, pursuing my Bachelor's Degree in English and will follow with the completion of my Master's Degree in Creative Writing. I've always enjoyed writing for as long as I can remember. I'm constantly thinking up fantastical stories and then penning them to life on paper. I live in Richmond, ME with my son. He is a constant source of amusement and inspiration. My motivations to see my dreams of publishing come to fruition, have definitely been family and friends. The support I have received from all of them is my drive to make my dreams happen! My hopes for this project and all others, are that whoever reads my books, will be given the benefit of at least one good laugh by the characters' endless antics!
Where to find Lydia Stevens online
Books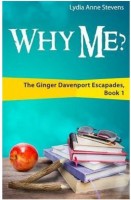 Why Me? The Ginger Davenport Escapades, Book 1
by

Lydia Stevens
When Ginger is forced into helping the most notorious of all vampires, Count Vlad Dracula, she is removed from her comfort zones and thrust into a dangerous mission that her cheeky comments and sarcastic defensive shields won't be help to protect her. Headed back to school this fall? Well follow college, co-ed, Ginger as she geek-talks her way out of some sticky-paranormal infused situations!
Lydia Stevens' tag cloud