Lyndal Cushing
Biography
I am a proponent of Natural horsemanship and have delved deeper and deeper into the levels of communication and partnership with horses due to illness I am no longer able to ride and this lead me to explore other ways of working with my horses.
I've always planned write fantasy novels but it was an up hill and unsatisfying venture. Just on a whim, and because I love the art of writing I began writing fiction that had a paranormal lean but dealt with human issues and the results of choices made and the consequences that follow. There is and will always be the aspect of natural horsemanship in my novels because there never seemed to be enough adult "horse stories".
My books are also based in Australia because I want to share the beauty and the hardships of this wonderful country. I lived for 15 years in USA and there really is no place like home. Sometimes you have to leave a place to find out just how much you really love it.
I am new to this business but I have so many stories to tell and I hope some one will find something that rings true for them in my books. The Hope Horse Trilogy is my first financial endevour but most definitely not my last.
Books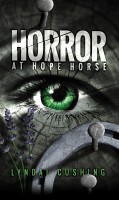 Horror at Hope Horse - Never Give Up: Book One of the Hope Horse Trilogy
by

Lyndal Cushing
Price:
$6.15 USD.
Words: 122,730.
Language: English.
Published: January 20, 2015
. Categories:
Fiction
»
Romance
»
Paranormal
Hope Horse is a haven for Lauren who endured years of abuse at the hands of her father. Dahvid comes to Hope Horse with his own agenda. He gets his own way no matter the cost. Life is cheap. Dahvid is a predator. Like a cat, he toys with his prey, drawing out the game until its inevitable conclusion.
Lyndal Cushing's tag cloud