Lyndon Gardner
Biography
I know i wrote and expressed many ideals and shared many experiences that i changed by allowing my mind to form other ideals and that i may have left people with spaces in their own mind that created questions or upset you, i meant to do this, i wanted to shake people up or leave them with spaces of questions. i believe the world shifted and we can no longer look towards the powers that be that have failed to produce a world that the masses want to live in, the one thing that has never been done is humanity being responsible for our actions on an individual bases, its time for us to adjust the one thing we can adjust, to create the one space that we can control, our minds, if you want to comment, share or have a question go to the facebook page posted here and create a dialog. its true i am not the Dali Lama but i did go to hell and i came back with a clue........look forward to the moments, thank you.
Where to find Lyndon Gardner online
Books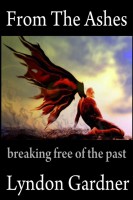 From The Ashes Breaking Free Of The Past
by

Lyndon Gardner
There is a truth that exists in all of humanity and moments come everyday that point to the path one must walk to come to that truth. It is a truth that must be experienced one can not tell others of it, it is felt and overwhelms us and it is up to us to decide if we desire enough to know what that feeling deep from within is trying to show us, this is the beginning of that idea for me.
Lyndon Gardner's tag cloud