Lynn Lake
Biography
Lynn Lake's writing credits include Hustler Fantasies, Leg Sex, 18eighteen, Feminine Zone, Readerotica.com, and stories in the anthologies Truckers, After Midnight, Sex & Seduction, Sex & Submission, Five Minute Fantasies, Spank Me, Satisfy Me, Ultimate Sins, Ultimate Uniforms, Seriously Sexy, Girl Fun, Sex At Work, Best of Both, Wanton Women, Dark Desires, Partner Swap, Explicit Encounters, Crimes of Passion, Purple Panties 2, Indecent Proposals, Chocolate Flava 3 & 4, The Mammoth Book of Lesbian Erotica, and The Mammoth Book of Erotic Confessions.
Books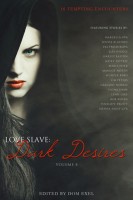 Love Slave: Dark Desires
by

Lit Select

(editor),

Marcella Uva

,

Louise Blaydon

,

Val Prozorova

,

Elia Nicole

,

Harley Easton

,

Katey Tattrie

,

Marie Piper

,

Margot North

,

HunterByrd

,

CMPeters

,

Gregory Norris

,

Fiona Shaw

,

Lynn Lake

,

Rob Rosen

,

Penelope Pruitt

, &

Sienna Saint-Cyr
Enjoy sixteen stories about fairies, vampires, demons, shape-shifters, and everything in between. Slip into the supernatural world with tales of gothic dalliances and haunting love affairs. From sinister vampires with an eternal lust for each other to an otherworldly entity searching for a mate, this anthology is packed with creatures intent on satisfying every desire.
Lynn Lake's tag cloud