MARGARET PETERSON
Biography
Margaret J. Peterson
Home: Lavallette, New Jersey
B.A. in English, Summa Cum Laude, Montclair State University
Part time freelance writer: magazine articles on health, real estate, travel, home renovation
Publications: The New York Times, NJ SAVVY LIVING Magazine
Realtor, wife, mother, grandmother.
Books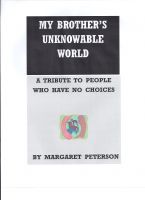 My Brother's Unknowable World
by

MARGARET PETERSON
This is the story of my brother, Leonard, who was born blind and profoundly "retarded" and is now 59 years old. I began writing this memoir in 1987 to reveal grim truths about people who had no choices. By the time there were laws to protect my brother's human rights, he had already been a victim of immeasurable neglect in two institutions. Eventually, Leonard prevailed, and this is my tribute.
MARGARET PETERSON's tag cloud