Mark McKirdy
Biography
Mark McKirdy has four books published, several travel stories, a number of feature articles and some poetry. He has a teaching degree, a Masters in Creative Arts (Writing) and a doctorate in the same subject. These days Mark mostly writes humorous stuff because it's more effective, and heaps more fun, than swallowing Zoloft. He has a beautiful wife, Carol, three exceptional children, two strange cats and a dog who thinks he's the Pope because he loves touching people on the head with his paw. And for those interested in Astrology, Mark is on the cusp of Herpes and Constipation.

Last week, a young guy knocked at Mark's door. When he opened it, the guy said, "Hello, my name is Barry and I'm an Eighth Day Adventist. I should have come yesterday but I over-slept."
Books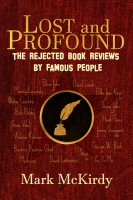 LOST and PROFOUND: The Rejected Book Reviews by Famous People
by

Mark McKirdy
(5.00 from 1 review)
What do Gore Vidal, Madonna, Arnold Palmer, David Letterman, Gloria Steinem and Salvatore 'Sammy the Bull' Gravano have in common? They, and many other celebrities, have written book reviews for the prestigious literary journal, 'The London Review of Books'. Each was rejected without explanation. Their reviews are now published as an entertaining, hilarious and at times controversial, collection.
Mark McKirdy's tag cloud