Paul Jeschke
Biography
Paul Jeschke is a television reporter, writer and producer who has covered thousands of news stories during his journalism career. His reporting has appeared on TV stations throughout the United States and on the ABC and CNN television networks.

As a general assignment reporter based in San Francisco, Paul has covered earthquakes, forest fires, floods, robberies, murders, serial killings and an assortment of unusual, sensational and bizarre news happenings. He is an "adrenaline junkie" who thrives on breaking news stories, quick deadlines and constant updates.

He received an Emmy Award from the National Academy of Television Arts and Sciences for a story entitled "Market Street Sniper."

Prior to his television career, Paul Jeschke was a reporter for United Press International. His stories have appeared in major newspapers, including the New York Times, Los Angeles Times, Washington Post, San Francisco Chronicle and hundreds of others. He was a contributor to the book, "Assassination: Robert F. Kennedy."

He is married and lives with his wife, Anne, in Muir Beach, California.
Books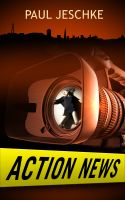 Action News
by

Paul Jeschke
A high tech psychopath, addicted to online role playing games, transfers his obsession to real life serial "sexcapades" that employ skill, logic and deception to elude capture. A San Francisco television reporter, anxious to use the story as a stepping-stone, is caught up in a televised pursuit that leads the nightly newscasts. If she isn't careful, her liveshot could become a "deadshot."
Paul Jeschke's tag cloud