Mischa van Loder
Biography
Mischa van Loder is attends Victoria University while studying a specialised Arts degree majoring in Literature and Visual Arts. Since 2004 she has been a professional writer writing for places such as AESSRA, Weekend Notes and her blog, The-Labyrinth and finding my way out. She juggles running her ebook, web and literary services business with taking care of a multitude of pets and wild animals. Her published works include the poetry anthology, Beauty and Pain, Netherland Dwarf Rabbits and taking care of them in Australia; her poetry has been anthologised in the PWE Anthology, Survival. She currently working on another non-fiction book with the working title of 'Build and Allergy-free, Eco-friendly House'.
Where to find Mischa van Loder online
Books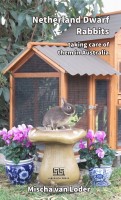 Netherland Dwarf Rabbits: Taking Care of Them in Australia
by

Mischa van Loder
'Netherland Dwarf Rabbits: taking care of them in Australia' is the first in the Miniature for Life Series, published by Labyrinth Press. This book features images in the style of Anne Geddes and shows the reader how to raise Netherland Dwarf rabbits in an Australian climate while demonstrating what it is you need to feed, house and take care of them.
Mischa van Loder's tag cloud