M.J. Miello
Biography
About Me: I am an eternal 80s kid sitting in the dark, in front of a giant dinosaur of a television holding my NES controller, having just watched in horror as Link was struck, spun around in agony, and blinked into nonexistance. I can still recall the chill riding up the back of my arms as the electronic plucked notes played and I was offered the most profound of all life choices: "Continue, Save, or Retry." The game has changed, but I have been 'continuing' ever since.
Where to find M.J. Miello online
Books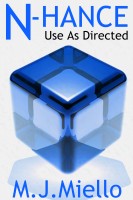 N-Hance: Use As Directed
by

M.J. Miello
Eric is a gamer whose world is falling to pieces. School is a dead-end, his best friend is moving away, and his gaming career is going down in flames. But then he is offered a chance to try N-Hance, an intelligence-boosting drug that could take his mind to new levels. But brain alteration is not without risk. Meet Eric Corvus before he was the Wraithlord, in this mind-altering eBook.
M.J. Miello's tag cloud