M. J. Neary
Biography
I am an award-winning historical essayist, multilingual arts & entertainment journalist, novelist, dramatist and poet. My novel, Wynfield's Kingdom, is featured in the March 2010 issue of First Edition Magazine (UK). My play "Hugo in London" was acquired by Heuer, and the sequel "Lady with a Lamp" was published by Fireship Press with the photos from the show. I also have a book of poetry "Bipolar Express" published by Flutter Press. I am currently an editorial reviewer and steady contributor for Bewildering Stories e-zine.
Where to find M. J. Neary online
Books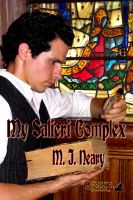 My Salieri Complex
A derivative prequel to H.G. Wells' "The Invisible Man", set in 1880s University College London, "My Salieri Complex" is a tale of rivalry, intrigue and intellectual infatuation. Samuel Kemp is a star medical student and the unofficial king of the science lab, respected by his schoolmates and engaged to his professor's daughter.
M. J. Neary's tag cloud