Patricia Zoratti
Biography
Patricia Zoratti, a native of West Palm Beach, Florida, was born with a scuba tank on her back and a tennis racquet in her hand. After thirty-five years of collecting tropical fish underwater and smashing forehands, she discovered a new world above sea level that stole her heart—the wilds of the woods.

A single trip to the Laurentian mountains of Canada, and she traded in her scuba tank and tennis shoes for hiking boots and a camper. Now an avid outdoor enthusiast, she has solo backpacked many trails in Arizona, Colorado, Montana, California, Africa, the Carolinas, Vermont, and Canada. On a more daily basis she can be found tromping along in the Everglades, located in her back yard, where amongst the cattails and saw grass, most of Maddie Kane was written.
Books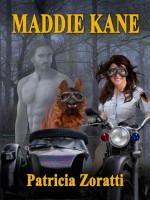 Maddie Kane
by

Patricia Zoratti
Where folks marry 'til death do them part, and the sugary aroma of pralines faintly hangs in the air, lays a remote Louisiana parish called Boggy. Evil? A romantic spirit? A garrulous, grouchy police dog that dreams of a town with more crime? Nothing is what it seems as hometown darling, Maddie Kane, unwittingly discovers in a place where superstitions and the Atchafalaya swamp reign supreme.
Patricia Zoratti's tag cloud