Lane Schroeder
Lane grew up in Bailey, NC and graduated from Duke in 1961. A year later, she married Fred Schroeder, a classmate, after teaching first grade in Zebulon NC. Experiencing many moves with Fred's career in the steel industry, the couple eventually lived in eight states. They are currently enjoying their retirement in the Cypress Landing community located in Chocowinity, NC. Both love living in eastern North Carolina. Their families include two daughters, their husbands, and five grandchildren.

Lane joined the Pamlico Writer's Group in 2002 and still attends their bi-monthly meetings which she feels has helped improve the quality and quantity of her writings (poetry and prose). She says it's fun to hear the other members read their works and has been amazed by the talent of the membership. Gifts from a Muse is her first
published book. Previously she has enjoyed sharing her poetry in her church and neighborhood newsletters. The Cypress Landing cookbook, Old Favorites, New Friends features a poem she wrote about their beautiful community. The Pamlico Sail and Power Squadron officially adopted a poem she wrote for them which recounts the history of their squadron.

Delivering Meals On Wheels and serving on the pastoral care ministry of her church are two ways Lane enjoys volunteering. She plays some tennis, walks her neighborhood with Nordic walking sticks, boats and attends Duke basketball games with Fred and especially delights in visits with the grandchildren. Oh yes, she can sometime be found writing poetry on her screened porch overlooking Silas Creek and Chocowinity Bay.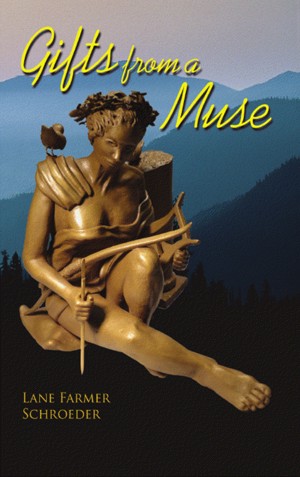 Gifts from a Muse
by

Lane Schroeder
This book of poems by Lane Farmer Schroeder, she feels, are truly gifts from outside herself. For her cover Allan Weaver's sculpture of Erato, Muse of Romantic Poetry, symbolizes this creative process. Words of inspiration, contemplation reflection and devotion await to stir the mind and linger in the reader's heart.