Martin Langley
Biography
Born in London, England. I have been in surveying, real estate valuation/appraisal and adjusting for my career. I recently moved over to writing and started with a biography of my father's life and times. That book was special in that it was a tribute to him and more importantly validates his generousity in allowing me to have custody of the original documents he acquired while working in SHAEF that can now be shown the light of day. None of the documents had any military value then or now, but they are of historical interest. I was permanently injured in a flying accident in the mid 1960s but it hasn't slowed me down. I hope to be doing more books in the future. Thank you.
Books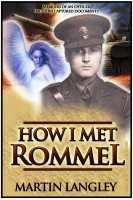 How I Met Rommel - Memoirs of an Officer
by

Martin Langley
Biography of WW2 officer who escaped POW camp and returned to join SHAEF. He had a guardian angel which he called 'luck'. He interpreted documents at Flensberg where Doenitz surrendered after Hitler's death. Several documents including signed letters and a birthday card to Hitler are published for the first time for historical interest and an Allied summary of Operation Sealion.
Martin Langley's tag cloud