M Robinson
Biography
M. Robinson loves to read. She favors anything that has angst, romance, triangles, cheating, love, and of course sex! She has been reading since the Babysitters Club and R.L. Stein.

She was born in New Jersey but was raised in Tampa Fl. She is currently pursuing her Ph.D in psychology, with two years left.

She is married to an amazing man who she loves to pieces. They have two German Shepherd mixes and a Tabby cat.
Books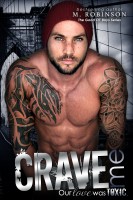 Crave Me
by

M Robinson
They say in order to find yourself you have to go home. What if home was what you were running from? Where did that leave you? Always on the other side of the fence. Always looking in. Always wishing you were someone you couldn't be. Until one day you meet her. The one. She was my high, but she was also... My demise.
M Robinson's tag cloud