Mary Stormont
Biography
Mary Stormont holds a Bachelor of Science Degree from Montana State University, and an Associate Degree from Rock Valley College in Rockford, IL. When her marriage of twelve years ended, she began a search for happiness in this life, and the true road to heaven, which culminated in the booklet, "Are You Sure? Are You REALLY Going to Heaven?"
As a Registered Nurse she worked in numerous medical facilities in several states, and her experience covers all areas of nursing, but her primary interest lies in geriatric care. She has acted as county Home Health Coordinator, charge nurse, and as Director of Nursing in various facilities, but Nursing Homes have always been her primary interest. "Choosing a Nursing Home and Living With Your Choice" is a compilation of observations and ideas that have been gathered over the years as she worked in these various nursing settings.
For printed copies of her books, contact her at: mstormont8@gmail.com
Books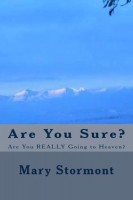 Are You Sure? Are You Really Going to Heaven?
by

Mary Stormont
Pastors, teachers and the world in general have mislead millions as to the reality of heaven and how to get there. This short booklet is short, thought provoking and blunt. It will make you think and hopefully question those "sacred cows" of protestantism. Settle the question of God, Jesus and Heaven while you have the time. Remember that what you believe has absolutely no bearing reality.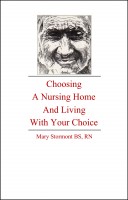 Choosing a Nursing Home and Living With Your Choice
by

Mary Stormont
Making the decision to place a loved one in a nursing home can be overwhelming. This booklet can help you choose the best facility for your needs, and lots of tips to make the nursing home experience the best it can be. Based on years of practical nursing experience in various facilities and written by a Registered Nurse. Nursing Homes aren't BAD-just different. The years spent there CAN be good!
Mary Stormont's tag cloud