Mac Champaign
Biography
Mac was born and raised in the Midwest before moving to Washington, DC to begin his national security career. He's worked for the government for the past several years, and he anticipates that he will continue to do so indefinitely.

Like many Americans, Mac's concerned about our nation's future, and his concerns motivate much of his writing. But Mac tries not to sweat the big stuff too much, and he never lets it stop him from enjoying a glass of whiskey or a good cigar. He also really enjoys pro football and college basketball. He'd probably enjoy Major League Baseball too, except he had the misfortune of being born a Cubs fan.
Books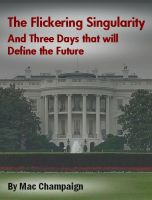 The Flickering Singularity and Three Days that will Define the Future
by

Mac Champaign
(4.00 from 1 review)
In the year 2077, America is a dreary, stagnant place. In the White House, the question of the day is "How can we return the United States to its former greatness?" To do so, the nation's new President enlists the help of the Seer. The Seer is the singularity. He changes everything, not once, but twice, exposing a truth so profound that all mankind must reconsider the very meaning of existence.
Mac Champaign's tag cloud