Macca Sherifi
Biography
Macca Sherifi is a top travel blogger, photographer and presenter. Along with his award-winning travel blog An Adventurous World, Macca is one of the main Lonely Planet Trailblazers and he has collaborated on exciting campaigns with some of the world's biggest travel brands. Macca's looking at capturing the world one destination at a time so make sure you follow him on his adventures!​
Where to find Macca Sherifi online
Videos
Why We Travel
A Brit and A Broad (www.abritandabroad.com) is a new, dynamic travel video blog presented by Macca Sherifi and Brianna Wiens with all cinematography by Brian Ceci. This season, both Macca and Brianna begin their adventure in Vancouver, Canada, before travelling from Mexico City all the way down through Central America to Panama City. Our first teaser gives a glimpse of what's to come and why we do what we do. This is why we travel.
Books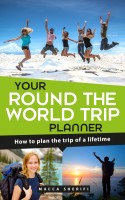 Your Round the World Trip Planner: How To Plan The Trip Of A Lifetime
by

Macca Sherifi
Are you planning the trip of a lifetime? Then take all the stress and worry of it by purchasing Your Round the World Trip Planner. Aimed at 17 to 35-year-olds planning a big trip for the first time, Your Round the World Trip Planner is designed to give you all the information and advice you need before you go.
Macca Sherifi's tag cloud