S. Mathan
Biography
Hi all,

I am from Chennai, capital of the state Tamil Nadu, in south India. I am a Mechanical engineer with master's degree in Business Administration. I worked in corporate sector, oil sector, for 15 years. Somewhere in my mid-thirties I felt a vacuum forming inside me. There were many other factors too, that one fine day I decided to quit.

If the average lifespan of a man is 60 years, I had the first 1/3rd of my life in my hands. That wonderful life of youth. The second 1/3rd of my life I gave it to others. All my time in corporate sector. Now I want the last 1/3rd of my life back in my hands. I am having it and eating it too.

I am not that kind of a writer that writes when given a topic or thinks about a topic. I write thoughts that come to my mind. It just keeps bubbling inside my head and I have to take it out.

OK. Enough.

I have always said, I work to live, I don't live to work. These may be my idiosyncrasies or pragmatism; these are also my opening words in my maiden book-'Echoes In Empty Cranium'.

TRUTH Isn't It?
It may be hard to come to terms. It may appear trivialized.

We are but a patch of cells that have the ability to see light, hear sounds, and smell fragrance, taste organic or inorganic matter, feel a sensation and loaded with emotions and feelings.

Approximately 1.3 kgs.

BRAIN.

A B io-mass of R andom A ccess I nformation N etwork or
A B io-mass of R egular A ccess I nformation N etwork.

A man can be said to be sane if he has the mode regular access switched on.
A man can be said to be insane, genius, an artist, a pioneer, inventor, innovator if he has the mode random access switched on.

A Puzzle With An Answer.

You don't know where you came from,
You don't know where you are going to,
You know and you are aware that you are here today,

So,

In my youth I said – party tonight.

But later on changed to, sing tonight, pray tonight, take a walk tonight, breathe easy tonight, close your eyes for an hour or two tonight…

Enjoy the book. Please comment, rate and review it.
Books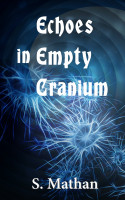 Echoes In Empty Cranium
by

S. Mathan
The book deals with living, emotions, about life, about the system. How things are, the way life goes about. It talks about pain, suffering, excess, vagaries of a man-made system, hope, anguish, and suggestions. It can be categorized as one derived from a potpourri of contemporary philosophy/thinking, sociology, psychology, transformational and inspirational work.
S. Mathan's tag cloud