Benjamin Maduabuchi Ohakim
Biography
Benjamin M Ohakim was born and bred in Ezihe, a sleepy rural community in Isiala Mbano, Imo State, Nigeria. Embedded in-between hills and valleys rich in lush green vegetation, the Ezihe community is blessed with spring water that gushes freely from rocks and fertile land that grows green healthy crops. This author witnessed first hand, the cultural festivals/dances, traditional marriages and the unique way of life of the people. They express themselves in an undiluted rich and vast cultural heritage which transcends from generation to generation. Instinctively, Benjamin M Ohakim began to give account of his environment in form of essays as early as when he was in elementary five.
He obtained degrees in Banking and Finance at the University of Lagos, Nigeria. Friends and family members thought he would pursue a career in the banking industry, but for him the art of expressing himself in essays and books was too compelling to ignore. He went into procurement and marketing of children's books. Later, he started organizing book shows in elementary schools - taking valuable books to the doorsteps of parents and children. In furtherance of this cause, he started writing books that impart in children the rich African values embedded in their proverbs and folktales.
He is married with three lovely children.
Books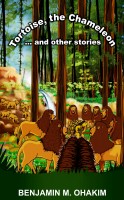 Tortoise, The Chameleon and other stories
by

Benjamin Maduabuchi Ohakim
The book captures the way of life and intrigues in the jungle. It paints a vivid picture of the daily chores of two sets of animals, the hunter and the hunted. The hunter is a pride of lions and the hunted are the elephant, buffalo, zebra, tortoise, a clan of meerkats etc.The intrigues that follow the lions' mealtime and the manoeuvrings of the hunted to live makes it an interesting book to read.
Benjamin Maduabuchi Ohakim's tag cloud