Lynda Austin
Biography
Lynda Marie Austin (1943-) Born in San Francisco Ca, moved to Loomis CA in 1952. I've been a car-hop, a keno writer, an answering service operator, a lost luggage delivery driver, a cab driver, a housekeeper, a gift shop owner, a freelance writer, a park aid for CA and AK state parks, a clown, (I was Sumbuddi) a face-painter, a Christmas elf, a palm reader, a tarot card reader, a student tour guide, and a mom. The one constant is that I've always been a writer.
Currently lives in Sacramento CA.
Books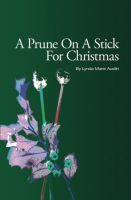 A Prune On A Stick For Christmas
by

Lynda Austin
A grandfather tells his grandchildren the story of how prunes on a stick became a family tradition at Christmas.
Lynda Austin's tag cloud