Maria F. La Riva
Biography
Maria considers her a simple person just like you and your neighbor. She went through childhood drama like everybody and her teenage years were perhaps as tough as yours.

Her life as an adult was harsh, passing through an incredible amount of experiences. "I know, I've been there" is her most common sentence when coaching. People feel at ease with her knowing she can understand them from personal experiences and hopeful thinking that if she could come to a tranquil state of mind, then they would also be able to.

In spite of her sufferings, she speaks of them with so much gratitude astonishing many. Her theory is that because of them, she is able to be a success in her career. She probably felt your pain and also struggled with what you are struggling with. How does a Life Coach get any better than that?

She never gave up asking where could she find a faster and easier way to be abundant and to be in an easy state of mind. Now that she found it, she could not keep it to herself.

No matter what your life experience have been or your spiritual background, she would prove that you are that joyful infinite being she talks about.
Books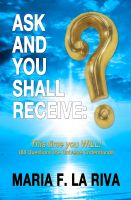 Ask and You Shall Receive: This Time you Will!
by

Maria F. La Riva
This little but powerful booklet provides the tools as questions to change your life in a very different way. All best sellers give beautiful logical explanations but none give you a permanent, practical and easy solution. This booklet does, if you are persistent… and there are hundreds of testimonials to prove it. Download your copy to make the change in your life now.
Maria F. La Riva's tag cloud