Malixole Sontsi, Sr
Publisher info
Malixole is a student nurse in Lilitha nursing college, doing his final year, he was born in a remote village called mhlotsheni location, mount Frere , eastern cape, south africa.
He is a young man well inspired to inspire others, he is a born again child of God, his passion is to speak about Christ, "I find it difficult not to speak about Christ", he explains.he is Looking forwad to motivate others, "I'm a person who dreams a lot, looking forward to accomplish my dreams, and my aim is to make others to accomplish their dreams also"
Books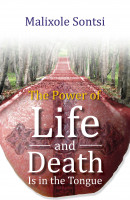 The Power of Life and Death Is in the Tongue
by

Malixole Sontsi, Sr
"The power of life and death is in the tongue", is a verse taken from the Bible in the book of Proverbs 18:21. The motive behind writing this book is to clearly prevail, the power of the spoken words. Words spoken out of anger are irreversible; words can crush or heal your soul.
Malixole Sontsi, Sr's tag cloud